Minority, Disadvantaged, Disabled, and Small Business Certification Programs
If you are a minority business owner in the State of Florida, there are numerous state programs and initiatives available to help your business grow and succeed.
In 2009, the Florida Legislature found that "there is evidence of a systematic pattern of past and continuing racial discrimination against minority business enterprises and a disparity in the availability and use of minority business enterprises in the state procurement system" and "based upon statistical data profiling this discrimination, the Legislature has enacted race-conscious and gender-conscious remedial programs to ensure minority participation in the economic life of the state, in state contracts for the purchase of commodities and services, and in construction contracts".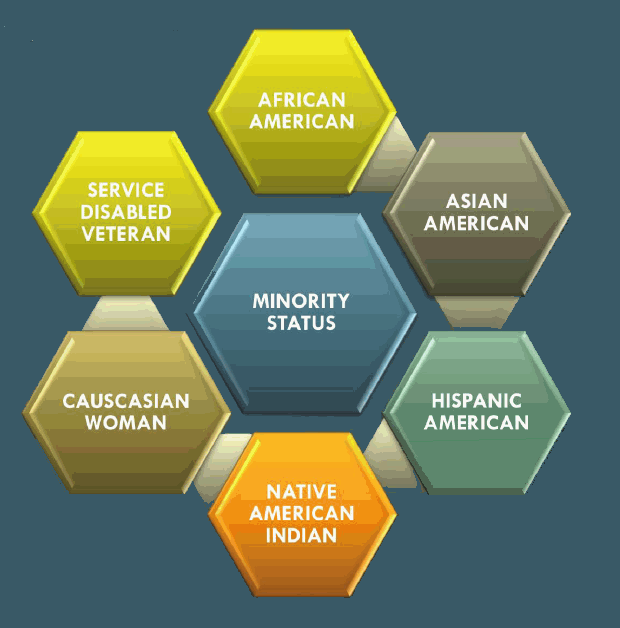 What Agencies can bid minority status?
All state schools and universities, Department of Education
Environmental Protection
Fish & Wildlife Conservation Commission
Hospitals & State run healthcare
Law Enforcement, Department of Corrections, Juvenile Justice
Elder, Community & Military Affairs
Lottery
Veterans Affairs
Department of Revenue
Governor's Office
Children & Family Services
Financial Services
Persons of Disabilities
Requirements for Certification
Must be a Minority
51% Own and Control the Business
Responsible for the business on a full-time basis
Must be a US Citizen
Resident of the State of Florida
If a professional license is required, the minority owner must carry the license
The business must be operating or attempting to operate by submitting bids
Must be classified as a small business
Must operate in Florida
Important Laws & Rules
If your business is required to have a professional license, the individual seeking minority status, MUST hold that license
No transfer of stock or ownership can occur within 2 years prior to Minority Certification
If you own a business and your partner is a non-minority, do not attempt this process on your own
If denied, you cannot re-apply for 6 months. Please consider the decision to handle this on your own very carefully
Like every state or government program, cutting through the red tape is a hassle.
More than any other licensing process, Minority Certification can be time-consuming, arduous, and overwhelming. The good news is that API has successful experience with this certification process.
State of Florida Certification Programs:
Office of Supplier Diversity - Certification programs to do business with cities, counties, school districts, hospitals, water management districts, certain private sector, and quasi-government entities.
Florida Department of Transportation (FDOT) Equal Opportunity DBE Program - Certification program to engage in road, highway or bridge planning, design, construction or maintenance related goods and services.
Federal Transit Administration (FTA) DBE Program - Certification program to engage primarily in airport related goods and services, including concessions.
Federal Aviation Administration (FAA) DBE Program - Certification program to engage primarily in transit related goods and services, including concessions.
Let API Handle All Your Minority Certification Needs!
Our company has experience and knowledge for State Contractor Certifications and Qualifications. We also assist in  Bonding, Liability Insurance, and Workers' Compensation or Exemptions.
It's easy: just call API to file for you.